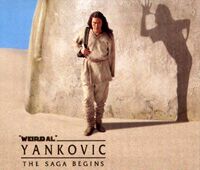 Song: The Saga Begins
Running Time: 5:27
Year: 1999
Album: Running With Scissors, It's All About The Pentiums, The Saga Begins
Parody of: American Pie (Don McLean)
Lyrics: Lyrics
Video: Yes
Download/Listen: Mp3
Forum: Forum Discussion Page
The song summarizes the plot of the much-hyped first episode of the Star Wars prequel trilogy, The Phantom Menace, and was released only a few weeks after the movie. Al says he wrote the song based entirely on internet rumors, and attended a special pre-release screening of the movie to make sure it was accurate; he only had to make minor alterations.
The original "American Pie" songwriter Don McLean says that Al's parody lyrics sometimes creep into his head when he performs the song live.
When Radio Disney would play the song, they censored the line "Do you see him hitting on the Queen" simply by cutting it out of the song. Al thought this sounded horrible and released a version where he sings "Do you see him talking to the Queen" instead.
The music video for this song was shot in a blistering hot Mojave Desert (the opening and ending scenes) and an air-conditioned soundstage (the cantina scene).
Al plays Obi-Wan as a padawan in the music video.
Emperor Palpatine (played by Rueben Valtierra) can be seen playing the piano, Mace Windu can be seen dancing, and Mickey Mouse can be seen playing the tuba.