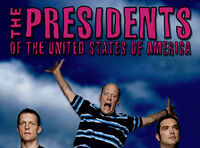 The Presidents of the United States, or "PUSA," are an American alternative rock band. They have many connections with Al. In 1996, Al parodied their song Lump, and made Gump. In 2008, Al directed the music video for their song Mixed Up S.O.B.. That same year, Al performed the song "More Than a Feeling" by Boston with PUSA live in concert.
External Links
Edit
Ad blocker interference detected!
Wikia is a free-to-use site that makes money from advertising. We have a modified experience for viewers using ad blockers

Wikia is not accessible if you've made further modifications. Remove the custom ad blocker rule(s) and the page will load as expected.