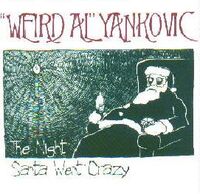 Song: The Night Santa Went Crazy
Running Time: 4:00
Year: 1994
Album: Bad Hair Day, The Night Santa Went Crazy
Parody of:Soul Asylum ("Black Gold"), Ozzy Osbourne ("Mama, I'm Coming Home").
Lyrics: Lyrics
Video: None
Download/Listen: Mp3
Forum: Forum Discussion Page
Alternate Versions: The Night Santa Went Crazy (Extra Gory Version)
Al says that the song was inspired by a Christmas card given to him by Mark Osborne, co-director of the "Jurassic Park" video; the card in question was used as the cover art for the single (as seen above).
Ad blocker interference detected!
Wikia is a free-to-use site that makes money from advertising. We have a modified experience for viewers using ad blockers

Wikia is not accessible if you've made further modifications. Remove the custom ad blocker rule(s) and the page will load as expected.