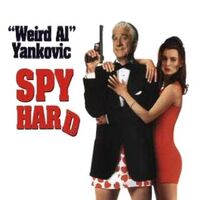 Song: Spy Hard
Running Time: 2:49
Year: 1996
(Style) Parody of: James Bond Theme Songs
Lyrics: Lyrics
Video: Yes
Download/Listen: MIDI
Forum: Forum Discussion Page
Alternate Versions: Spy Hard (Credits Version), Spy Hard (Instrumental), Spy Hard (Orchestral)
This is the theme music for the motion picture Spy Hard, starring Leslie Nielsen.
in the original the guy fainted after the 20 second note, but for Al, yes, his head exploded.
Ad blocker interference detected!
Wikia is a free-to-use site that makes money from advertising. We have a modified experience for viewers using ad blockers

Wikia is not accessible if you've made further modifications. Remove the custom ad blocker rule(s) and the page will load as expected.