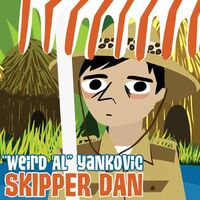 Song: Skipper Dan
Running Time: 4:01
Year: 2009
Album: Alpocalypse, Internet Leaks
Style Parody of: Weezer (esp. Pork and Beans)
Lyrics: Lyrics
Video: Yes
Download/Listen: Shockhound.com
Forum: Forum Discussion Page
This song is about the Jungle Cruise at Disneyland.
The jokes referenced in the bridge, explained:

"Bengal tigers can jump over twenty feet": Followed by the reassurance that luckily, the one the boat is passing is only four feet away.
"That's an African bull elephant": Followed by a description of its distinctive features. Then, in case anyone on the boat has a short memory, the skipper points out a second one, repeating the same spiel word for word.
"There it is, the back side of water": This is the punchline of probably the most famous joke on the ride. The boat first travels past a waterfall, then around a loop past some other scenery. As the boat returns, it passes behind the same waterfall, with the skipper excitedly playing up the significance of getting to see such a rare sight.

The video was animated by Divya Srinivasan.
Unlike any of the songs he made, this is considered to be Weird Al's most dramatic song.