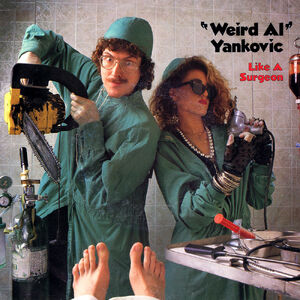 Like a Surgeon is a Parody of Madonna's Like a Virgin by Al.
Single: Like A Surgeon
Released: June 4, 1985
Recorded: February 21, 1985
Total running time: 7:50 or 7:39
1985 Version
Edit
Like A Surgeon (3:27)
1985/1993 Version
Edit
Like A Surgeon (3:27)
King of Suede (4:12)
Madonna is partly responsible for this parody idea. She said to one of her friends she wondered how long it would take for Weird Al to parody her song, and that friend was a friend of Al's manager Jay Levey and eventually Al heard about it and decided to do it.
Ad blocker interference detected!
Wikia is a free-to-use site that makes money from advertising. We have a modified experience for viewers using ad blockers

Wikia is not accessible if you've made further modifications. Remove the custom ad blocker rule(s) and the page will load as expected.