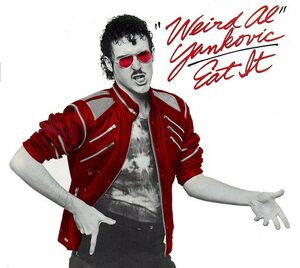 Not to be confused with compilation with the same name. Eat It is a parody of Michael Jackson's Beat It by Weird Al Yankovic.
It was a huge hit for Al.
Album: Eat It
Released: February 28, 1984
Recorded: December 13, 1983
Total running time: 6:51
Eat It (3:19)
That Boy Could Dance (3:32)
Grammy - Best Comedy Recording (1984)
No. 1 - Australia ARIA Singles Chart
No. 36 - UK Singles Chart
No. 12 - U.S Billboard Hot 100
This is the first Michael Jackson parody Al did, the second being Fat and the third being Snack All Night
Al didn't expect the reaction he would have gotten from Michael Jackson to allow the parody. Michael thought it was funny and allowed the parody to be released
Ad blocker interference detected!
Wikia is a free-to-use site that makes money from advertising. We have a modified experience for viewers using ad blockers

Wikia is not accessible if you've made further modifications. Remove the custom ad blocker rule(s) and the page will load as expected.