Not to be confused with the single with the same name.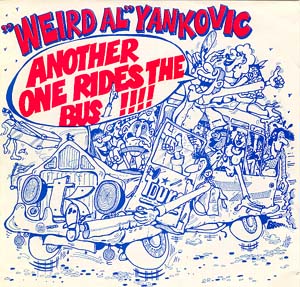 Another One Rides The Bus is a parody of Queen's Another One Bites The Dust by
Weird Al
. The track has appeared on the EP with the same name and
Weird Al's debut studio album.
Single: Another One Rides The Bus
Released: November 28, 1981
Recorded: September 14, 1980
Total Running Time: 4:57
Another One Rides The Bus (2:36)
Gotta Boogie (2:21)
This is Weird Al's second single.
There is no music video for this single.
It charted on the Bubbling Under Hot 100 Singles at no. 4.
As the song became an underground hit, TK Records signed Werid Al to release this single, but because of financial problems TK closed and the single dropped out of the charts.
Ad blocker interference detected!
Wikia is a free-to-use site that makes money from advertising. We have a modified experience for viewers using ad blockers

Wikia is not accessible if you've made further modifications. Remove the custom ad blocker rule(s) and the page will load as expected.