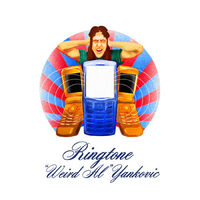 Song: Ringtone
Running Time: 3:24
Year: 2009
Album: Alpocalypse, Internet Leaks
Style Parody of: Queen
Lyrics: Lyrics
Video: Yes
Download/Listen: Amazon UK
Forum: Forum Discussion Page
Alternate Versions: Ringtone (w/ SSL comp)
This song is the final Internet Leak.
If you look carefully at the beginning of the video, you can see the cat clock from Dare To Be Stupid
An iPhone is a mobile phone manufactured by Apple Inc.
If you look carefully in the video at the Chinese factory scene, the toy trains resemble Percy the Small Engine from the "Thomas the Tank Engine" series.

The Single's cover artwork is a parody of Queen's "Night at the Opera" cover, because this song is a style parody of Queen.
Ad blocker interference detected!
Wikia is a free-to-use site that makes money from advertising. We have a modified experience for viewers using ad blockers

Wikia is not accessible if you've made further modifications. Remove the custom ad blocker rule(s) and the page will load as expected.