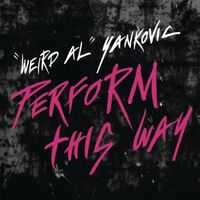 Song: Perform This Way
Running Time: 2:55
Year: 2011
Album: Alpocalypse
Parody of: Born This Way by Lady Gaga
Lyrics: Lyrics
Video: Yes
Listen: Listen on YouTube
Buy:
Forum: Forum Discussion Page
It was originally thought that Lady Gaga had denied Al permission of releasing the song, however her manager made the decision and she had never heard it. Things were cleared up and she approved of the song. Read more here.
All proceeds of the song and music video will go to the Human Rights Campaign.
The music video features Al's face on top of a woman's usually scantily clad body to give the illusion that Al is actually wearing the outfits. This trick was done through CGI.
The music video received a Grammy nomination for Best Music Video.
Ad blocker interference detected!
Wikia is a free-to-use site that makes money from advertising. We have a modified experience for viewers using ad blockers

Wikia is not accessible if you've made further modifications. Remove the custom ad blocker rule(s) and the page will load as expected.