Song: Party In The CIA
Running Time: 2:56
Year: 2010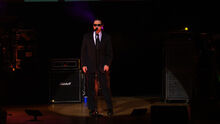 Album: Alpocalypse
Parody of: Party in the USA by Miley Cyrus
Lyrics: Lyrics
Video: Yes
Download/Listen: None
Forum: Forum Discussion Page
This marks the first time that Al has parodied father/daughter artists. He parodied Billy Ray Cyrus's "Achy Breaky Heart" with "Achy Breaky Song."
When Al is a worker at a fast food restaurant, the cash register reads 27.27. This is another example of 27 showing up in his songs.
27 is also seen at the very beginning of the video in Al's briefcase on the thermos on the left side of the man with the gun.
Ad blocker interference detected!
Wikia is a free-to-use site that makes money from advertising. We have a modified experience for viewers using ad blockers

Wikia is not accessible if you've made further modifications. Remove the custom ad blocker rule(s) and the page will load as expected.