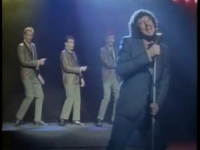 Song: One More Minute
Running Time: 4:05
Year: 1985
Album: Dare To Be Stupid, Greatest Hits 1, Al-In-The-Box
Style Parody of: Elvis Presley (Can't Help Falling In Love) and The Platters (The Great Pretender)
Lyrics: Lyrics
Video: Yes
Download/Listen: Mp3
Forum: Forum Discussion Page
This song is the exact opposite of the song "You Don't Love Me Anymore."
In the music video, "Weird Al" can be seen tearing a picture of the woman who inspired the song (likely an ex-girlfriend).
Ad blocker interference detected!
Wikia is a free-to-use site that makes money from advertising. We have a modified experience for viewers using ad blockers

Wikia is not accessible if you've made further modifications. Remove the custom ad blocker rule(s) and the page will load as expected.