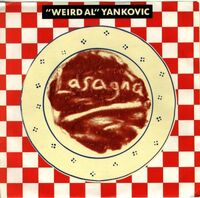 Song: Lasagna
Running Time: 2:46
Year: 1988
Album: Even Worse, Greatest Hits 1, Food Album, Al-In-The-Box, Lasagna
Parody of: La Bamba by Los Lobos
Lyrics: Lyrics
Video: Partially
Download/Listen: None
Forum: Forum Discussion Page
Click here for the Italian translations.
The song plays on a radio in a cave scene in the live action/animated film version of Yogi Bear.
Ad blocker interference detected!
Wikia is a free-to-use site that makes money from advertising. We have a modified experience for viewers using ad blockers

Wikia is not accessible if you've made further modifications. Remove the custom ad blocker rule(s) and the page will load as expected.