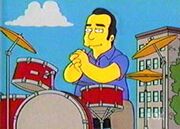 Jon Schwartz(born August 18, 1956 in Chicago, Illinois) probably known mostly by his stage name Jon "Bermuda" Schwartz is a drummer best known for working with the singer-songwriter "Weird Al" Yankovic. The two met while recording "Another One Rides The Bus" at the Dr. Demento show on September 14, 1980. Shortly after, Yankovic invited Schwartz to join his band, gave him the nickname "Bermuda" (a play on words of tropical apparel bermuda shorts) and they have worked together ever since. Schwartz is heard and seen on all of Yankovic's albums, videos, and concerts. he appeared in the tv show The Simpsons
Biography
Edit
Although born in Chicago, Schwartz grew up in Phoenix. He began drum lessons in 1965, and when his family moved to Los Angeles a few years later, he had decided to become a professional drummer and by the mid-1970s was drumming regularly with a few bands and doing some recording work.
In between Yankovic projects, Schwartz continues to play with other L.A.-area artists and bands and has recorded albums with Rip Masters, Jim Silvers, Ray Campi, Raymond And Scum, ApologetiX and Idle Hands
Schwartz has enjoyed a respectable online presence since 1993. He created The Official "Weird Al" Yankovic Website in 1995, which later became weirdal.com, and he continues to maintain it, along with his own site and several others. He is an administrator for the World Of "Weird Al" Yankovic Forum, and regularly participates in various drum-related forums (such as the drummer's cafe forum) under the name "bermuda".
Schwartz and his wife Leslie live in the Los Angeles area with their dog Pepper.
Ad blocker interference detected!
Wikia is a free-to-use site that makes money from advertising. We have a modified experience for viewers using ad blockers

Wikia is not accessible if you've made further modifications. Remove the custom ad blocker rule(s) and the page will load as expected.