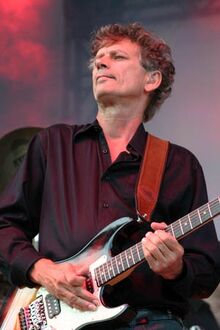 James "Jim" West (born December 18, 1953), also known as Kimo West, is a Canadian guitarist, best known for working with "Weird Al" Yankovic. He auditioned to be in "Weird AL"'s band after being introduced by Steve Jay in 1983 and the two have worked together ever since.
West is also a composer for film and television and produced a number of CDs for independent artists. He has released four solo slack-key guitar albums. He performs regularly at concerts and festivals.
Ad blocker interference detected!
Wikia is a free-to-use site that makes money from advertising. We have a modified experience for viewers using ad blockers

Wikia is not accessible if you've made further modifications. Remove the custom ad blocker rule(s) and the page will load as expected.