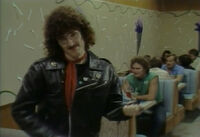 Song: I Love Rocky Road
Running Time: 2:35
Year: 1982
Parody of: I Love Rock 'N Roll by Joan Jett and the Blackhearts' (originally by The Arrows)
Lyrics: Lyrics
Video: Yes
Download/Listen: Mp3
Forum: Forum Discussion Page
Music Video
Edit
The music video parodies the "I Love Rock 'n Roll" music video, with these differences from the original:
It takes place in an ice cream parlor, rather than in a bar.
It was shot in color rather than in black and white (although the Joan Jett original was shot in color initially).
It was videotaped rather than filmed.
In "I Love Rock 'n Roll", Joan Jett says "Ow!" twice for her enthusiasm. In "I Love Rocky Road", Weird Al says "Ow!" because he eats ice cream so fast that he gets a brain freeze. The second time he says "Ow!" because a kid comes up to him and bites his leg.
This song was on Weird Al's first album, "Weird Al" Yankovic.
The music video for this song was filmed a restaurant (not an ice-cream parlor) in Agua Dulce, California.
Dr. Demento makes a cameo appearance as the cashier in the video.
The ice cream in the video was actually mashed potatoes, because real ice cream would melt under the stage lights.
This song is part of the Food Medley.
Originally, the lyric "All the soda jerkers know my name" was going to be "The folks at Baskin Robbins all know my name".