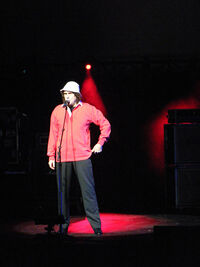 Song: I'm In Luv Wit Da Skipper
Running Time: 1:15
Year: 2007
Album: None (Appeared in Straight Outta Lynwood Tour)
Parody of: I'm 'n Luv (Wit a Stripper) by T-Pain
Lyrics: Lyrics
Video: Live
Download/Listen: None
Forum: Forum Discussion Page
This song would have been on Straight Outta Lynwood but Al decided to use White & Nerdy instead.
This song is included in the Straight Outta Lynnwood Tour medley and the 2010 Tour medley.
This song is about the show Gilligan's Island . Al sings as Gilligan about the Skipper, Jonas Grumby.
Ad blocker interference detected!
Wikia is a free-to-use site that makes money from advertising. We have a modified experience for viewers using ad blockers

Wikia is not accessible if you've made further modifications. Remove the custom ad blocker rule(s) and the page will load as expected.