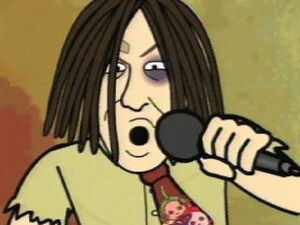 Song: I'll Sue Ya
Running Time: 3:51
Year: 2006
Album: Straight Outta Lynwood
Parody of: Style parody of Rage Against the Machine ("Killing in the Name","Wake Up", and "Bombtrack")
Lyrics: Lyrics
Video: Watch: YouTube
Download/Listen:
Forum: Forum Discussion Page
Al's Suing Reasons
Edit
Misspelling Names
Edit
Taco Bell: Taco Belle
EarthLink: UghrthLink
Starbucks: Starbux
Toys 'R' Us: Toysaurus
Petco: Petko
Coca Cola: Koca Kola
Delta Air Lines: Dellta
Duracell: Dura$ell
Home Depot: The Homey Depot
Dell: Del
Neiman Marcus: Nemen Markus
Also, on the Verizon Guy's shirt, instead of Verizon, it said "Shut Up or I'll KILL You" and he turned into a devil
This is the closest thing so far to an original rap song by Weird Al.
The first thing Al complains about is how he got fat.
In the animation, the lawyer uses Tom Morello's "Arm the Homeless" guitar with "Homeless" replaced by "Lawyers".
The animation is made to match Rage Against the Machines' music videos.
The end of the video shows the band driving in a car, and when seen from the front the trio looks like the Pep Boys.
Al's licence plate says I-SUE-U
Ad blocker interference detected!
Wikia is a free-to-use site that makes money from advertising. We have a modified experience for viewers using ad blockers

Wikia is not accessible if you've made further modifications. Remove the custom ad blocker rule(s) and the page will load as expected.