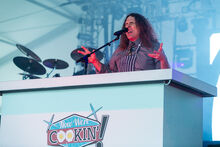 Song: Foil
Running Time: 2:22
Year: 2014
Album: Mandatory Fun
Lyrics: Foil
Video: Yes
Forum: Forum Discussion Page
Aluminium foil is commonly used to wrap up food to save for a later date. It also is jokingly used as hats for protection from mind reading devices.
Robert Ben Garant, Thomas Lennon, and Patton Oswalt all make cameos in the music video.
Ad blocker interference detected!
Wikia is a free-to-use site that makes money from advertising. We have a modified experience for viewers using ad blockers

Wikia is not accessible if you've made further modifications. Remove the custom ad blocker rule(s) and the page will load as expected.