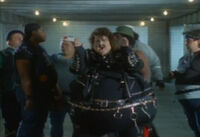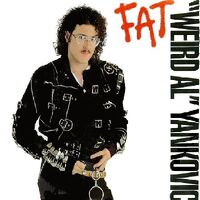 Song: Fat
Running Time: X:XX
Year: 1988
Album: Even Worse, Greatest Hits 1, Food Album, Al-In-The-Box, Fat
Parody of: Bad by Michael Jackson
Lyrics: Lyrics
Video: See Visuals
Download/Listen: Mp3
The video set was a recreation of the set of Michael Jackson's Bad video, which had recently been constructed for use in Jackson's film Moonwalker. Jackson let Al use the set for free.
A sequel for this song, Fatter was planned, but not released.
This is one of the "Weird Al" songs where the theme is Obesity.
When Al performs this song in concert, he wears the fat makeup and suit.
"Weird Al"'s fat makeup took three hours to apply each day for the music video.
One of the dancers was just an obese pizza delivery guy who needed the paycheck.
The taunters were none other than the Fat Boys.
Ad blocker interference detected!
Wikia is a free-to-use site that makes money from advertising. We have a modified experience for viewers using ad blockers

Wikia is not accessible if you've made further modifications. Remove the custom ad blocker rule(s) and the page will load as expected.