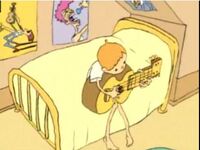 Song: Don't Download This Song
Running Time: 3:54
Year: 2006
Album: Straight Outta Lynwood, White & Nerdy
Style Parody of: 80's group charity songs genre, USA For Africa ("We Are The World"), "Hands Across America", and "Do They Know It's Christmas?".
Lyrics: Lyrics
Video: Yes
Download/Listen:
Forum: Forum Discussion Page
Ad blocker interference detected!
Wikia is a free-to-use site that makes money from advertising. We have a modified experience for viewers using ad blockers

Wikia is not accessible if you've made further modifications. Remove the custom ad blocker rule(s) and the page will load as expected.