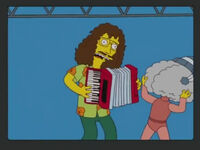 Song: Brain Freeze
Running Time: Unknown
Year: 2008
Album: None
Parody of: Shave Me by Sadgasm, which is a parody of Rape Me by Nirvana
Lyrics: Lyrics
Video: No :Watch
Listen/Download: None
This song was made for the television show The Simpsons in the episode That 90's Show. Sadgasm was the name of Homer Simpson's band.
This is one of the many of Al's songs where the theme is Television.
Ad blocker interference detected!
Wikia is a free-to-use site that makes money from advertising. We have a modified experience for viewers using ad blockers

Wikia is not accessible if you've made further modifications. Remove the custom ad blocker rule(s) and the page will load as expected.