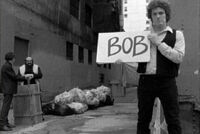 Song: Bob
Album: Poodle Hat
Running Time: 2:30
Year: 2002
Parody of: Subterranean Homesick Blues By Bob Dylan
Lyrics: Lyrics
Video: Yes
Forum: Forum Discussion Page
In the video "Weird Al" Yankovic is portraying Bob Dylan.
This song consists entirely of palindromes. (The title, Bob, is a palindrome itself.)
Bermuda Schwartz and Jay Levey (who direct some of "Weird Al"'s music videos) cameo in the music video as the guys in the background in the alley.
The music video was shot in an alley in downtown L.A.
"Weird Al" also parodies Bob Dylan in UHF.
This video is a parody of Bob Dylan's music video for "Subterranean Homesick Blues".
Ad blocker interference detected!
Wikia is a free-to-use site that makes money from advertising. We have a modified experience for viewers using ad blockers

Wikia is not accessible if you've made further modifications. Remove the custom ad blocker rule(s) and the page will load as expected.