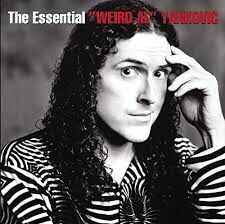 Album: The Essential "Weird Al" Yankovic
Released: October 27, 2009
Recorded: 1980-2007
Total running time: 2:20:32
Forum: Forum Discussion Page
Al tried to get You're Pitiful on this album. But Atlantic Records once again declined.
This album was released on October 27th
The album is part of Sony's "The Essential" series, but the cover is a specific parody of The Essential Michael Jackson.
Ad blocker interference detected!
Wikia is a free-to-use site that makes money from advertising. We have a modified experience for viewers using ad blockers

Wikia is not accessible if you've made further modifications. Remove the custom ad blocker rule(s) and the page will load as expected.