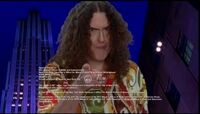 Song: 30 Rock Theme Song
Running Time: No exact running time
Year: 2012
Album: Unreleased
Parody Of: The 30 Rock theme song by Jeff Richmond
Lyrics: Lyrics
Video: Clip from 30 Rock
Download/Listen: None
Forum: Forum Discussion Page for 30 Rock
This song was featured in the show 30 Rock on the episode "Kidnapped by Danger."
Al stated on Facebook that 30 Rock is one of his favorite shows.
When Al says "awesome" in the song, it is purposely made to look like he said 'dismal' instead, and the editor cut it out to make 30 Rock look good.
Ad blocker interference detected!
Wikia is a free-to-use site that makes money from advertising. We have a modified experience for viewers using ad blockers

Wikia is not accessible if you've made further modifications. Remove the custom ad blocker rule(s) and the page will load as expected.