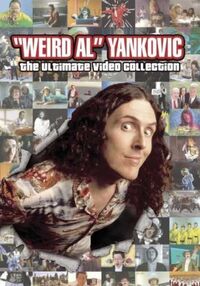 "Weird Al" Yankovic: The Ultimate Video Collection is a DVD, released in 2003, of Weird Al's music videos up to that date. It also includes extras, a photo gallery, and on-screen lyrics.
Videos in order
Edit
Another One Rides The Bus (live on The Tomorrow Show)
Easter Eggs
Edit
On the Extras menu, highlight "The Weird Al Show" and press up. It shows a video of My Bologna shot in San Juis Obispo, CA December 1979. It is a solo of Al and his accordion.
Ad blocker interference detected!
Wikia is a free-to-use site that makes money from advertising. We have a modified experience for viewers using ad blockers

Wikia is not accessible if you've made further modifications. Remove the custom ad blocker rule(s) and the page will load as expected.